Head over with your gang to Doolally's Beer Olympics
Mumbai -
If you want to end the summer on a bang, love beer and strive to be an athlete(of sorts), then head to Pune on the 20th of May for the Beer Olympics. The 7-hour marathon event promises to bring out the best in you beer lovers. Organised by the brew lovers at Doolally, this 'chug competition' is in its 6th year, having started back in 2012.
They truly believe that beer drinking isn't just another thing youngsters indulge in, it's a sport worth celebrating!
Let the games begin
Jenga - balance those nasty wooden blocks, when drunk!
Fletter - you'll be slurrrringg
Darts - aiming ain't easy
Beer Pong - all that practice at your house parties should pay off
Chug Relay - all time favourite
You'll be drinking a light-bodied and easy drinking, no-nonsense beer brewed specifically for the games. A pale ale, handcrafted by their German brewmaster from imported German malts.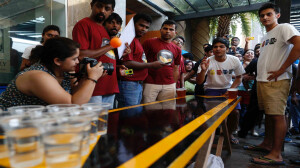 What's the deal?
You will need a team of four, a belly made of steel, Rs 8000 bucks (Rs 2000 per head) and drunken determination. You will each be given a Beer Olympics Kit, 5 games, a snack box and 2 liters of beer. Don't want to figure transport to and fro? Hop on to the Doolally Wagon at 800 bucks a head and you won't have to worry about driving back.
Yes, there are prizes too!
You will have a shot at winning Doolally beer in each of the five games. Plus, there's an awesome Grand Prize of Rs.50,000 worth of beer, seriously! And of course, the signature Golden Mug - every beer athlete's dream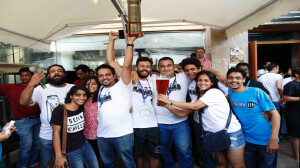 When: Saturday, 20th May, 2017
Where: The 1st Brewhouse, Corinthians Resort & Club, Pune
Book Here: beerolympics.in
So, if you can play Jenga with your left arm while chugging with your right AND push your beer belly to the very limit, then the Doolally Beer Olympics 2017 is for you.
Doolally Taproom has successfully brought back the beer drinking culture with outlets in Bandra, Andheri, Kemp's Corner and Colaba. From house brews, fun games and fries with insane dips, the taproom is the perfect place to hang for beer or cider with friends.