Launch of Solar Power System at Churchgate Station
Mumbai -
With the extension of Mumbai's suburban, the railway is examining various options for the travel of millions of people in this region. Western Railway has installed solar power system at Churchgate station on Saturday.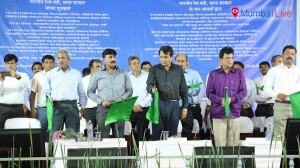 Rail Minister Suresh Prabhu inaugurated the Solar System. Western Railway took this step in order to minimize the electricity bill by replacing it with the solar power systems. Solar systems will not only be fixed on Churchgate station but other stations.
75 lakh has been provided for setting up solar energy system. The capacity of the solar energy system is 100KWp and 1.5 lakh units per year will be generated by the system. First time this experiment has been done by Western Railway. Also, Surat, Surat, Indore, Rajkot High-Speed Wi-Fi have been installed. Wi-Fi has been installed for this purpose to make the full benefit of passengers.