The original composer of "Sonu...tula mayavar bharosa naay ka?" speaks up
He has stayed behind the scenes for months while his song went viral on social media in various versions.
26-year-old Ajay Kshirsagar created the song "Sonu..tula mayavar bharosa naay kaay?" for a lark last year. Little did he know everyone including the country's first transgender band and several radio stations would pick up the property for creating their own versions.



This Punekar, originally from Kurudwadi, Solapur is a professional musician. Married with two young children, Hardik Kshirsagar and Shubheccha Kshirsagar, Ajay is away from the hubbub his song caused and says he had no idea it would go viral the way it did. He is still unknown to many, but to those who know him as the re-creator of the 'original picnic song', make him sing it every time they meet him.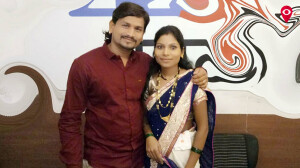 Mumbailive.com caught up with Kshirsagar for a quick chat.
How did you think of writing this song?
I have been composing songs since I was 15. I came across this picnic song Sonu... and decided to modify it. I penned the lyrics and composed the music as well. My wife Bhagyashali has also sung it. In fact, she is the one who calls out Sonu, tula mayavar bharosa naay kay. And the interesting part is, she calls me Sonu with love.
When did you start writing folk songs?
It is 10 years now that I am working in the music industry. Initially, I started writing devotional songs, then 2-3 years ago, I switched to Marathi folk songs. My other song "Mi Tujha Parsha, Tu Majhi Archi" was one of the folk songs which went viral.
How do feel about your song?
When I wrote this song and gave it to Sumeet Music to release it last year, I had no clue that it would go viral one day. I thought this song will be just like any other song. But, when I saw videos of it, my joy knew no bounds. There is dubsmash, collegians have recorded the videos, radio stations have picked it up to talk about social issues. Everything is amazing.
Do people come after you?
Well, not many people know that I have written the song but yes, those who know, don't let me pass without singing the song. I am enjoying the current phase.
Related News from Music & Dance