Toll rises in Ghatkopar building collapse
Mumbai -
Six persons are believed to have succumbed so far in the collapse of a four storey building, Sai Darshan, in Ghatkopar's Damodar Park that came crashing down at 10.30 am today.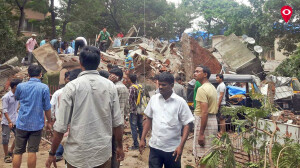 18 persons have so far been rescued, according to BMC officials. Of the six deceased, two including a three month old baby V Renuka Lalit, were sent to Rajawadi Hospital in Ghatkopar.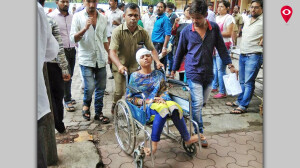 Some of the rescued have been sent to the Shantiniketan hospital. A 60 year old woman resident, Ranjan Bhupetar Shah, was killed in the building collapse, while at least thirty more persons are feared trapped in the debris. The fire brigade, which was alerted immediately, rushed eight fire engines, one rescue van and one ambulance to the site. Rescue operations are still on. It is believed nine persons have been extricated from the debris so far. Among those injured are 20 year old Varsha Sakpal, who works in the Shakuntala hospital, 62 year old resident Geeta Ramchandani, and 35 year old resident Vithal Shirgiri and 27 year old fireman Subhash Chavan. Of the 12 injured, six have been treated and discharged from hospital, it is learnt.
A nursing home, Shakuntala Nursing Home, was also operational on the ground floor of the building. Sources say renovation work was on at the hospital. State home minister Prakash Mehta visited the site, as did BMC commissioner Ajoy Mehta. Sources say nearly 20 families were staying in the 48 year old building.