From the 'point of view' of Bhalchandra Nemade
The writer is an integral part of readers and when readers are more cultured than writers then the latter becomes cultured, were the words of Dnyanpeeth award winner Bhalchandra Nemade. He expressed himself on the Sahitya Akademi's Foundation Day programme which was held on Friday.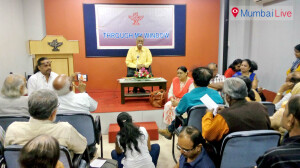 During this event 'Majhya Drushtine', which literally means 'from my point of view', programme was conducted where Nemade spoke about famous Marathi literary Bhau Padhye's life and literary works. Nemade said that Padhye was a good literary but he did not get good publisher for his writings. And he also did not get good critics. He signed off his speech saying that there is no proper group who will work for literary works.