Bollywood Beauties and their bold awkward moments
Mumbai -
They turn heads where ever they go. At premiers, parties, promotional events their attire is always cynosure of everyone's eyes. Bollywood actresses have always been considered trendsetters by their fandom and the fraternity and are expected to be different, stylish and chic at all times. But not every day is the same - sometimes their outfit makes a mark for the wrong reason - turns out to be misadventure and giving them the unwanted eyeballs.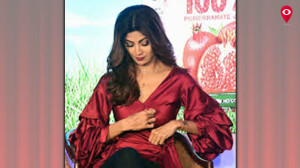 Recently at a promotional event of a popular fruit drink brand, actress Shilpa Shetty arrived looking hot as ever in red top and black trousers. But all through the event the fitness queen seemed quite uncomfortable with her top and kept fidgeting with it, making the discomfort quite obvious for shutterbugs.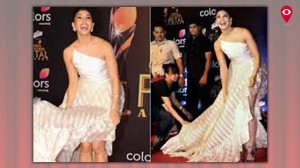 Television's popular award show Colors Petal Award is known to have many celebrities on the red carpet. This year the Sri Lankan import Jacqueline Fernandez's white Gown is known to have made headlines, not for its design but the way she carried, adjusting it throughout. In fact it is said that she also required a team to just hold her trail as graced the red carpet. But still, the chirpy actress, as always, posed for the camera. But this isn't the first time she has faced concerns with her outfits. A few months back, during the promotions of her movie Dishoom, the actress' tube top created an 'oops' moment for her, and at another award function, her good friend Sonam had to come to the rescue when her dress fell apart.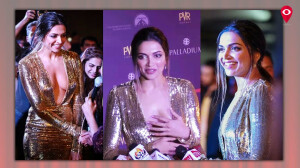 Talking about our Desi Diva from recent Hollywood release XXX, Deepika chose to dazzle in a cleavage bearing golden gown at her promotional event with Vin Diesel. But sadly, she looked a tad bit uncomfortable in her gown which she kept tugging all through the event making it a questionable public appearance.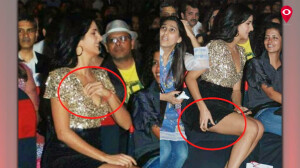 Talking about Deepika's moments reminds us of her arch rival Katrina, who also had her share of oops moment on many occasions, one such being at the promotions of Dhoom 3, where her fuchsia pink dress is known to have given the actress a tough time.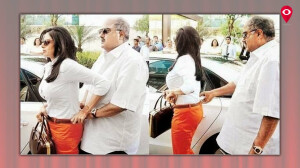 The ever so-dignified Sridevi also faced an awkward moment with her fashionable ensemble once at the airport. But when you have hubby as caring as Boney Kapoor by your side, you can sail through it with absolutely no worries.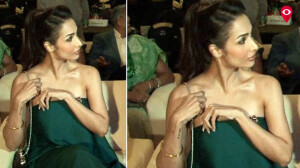 Yummy mummy Malaika's fashion sense is impeccable and she carries skimpiest of outfits with aplomb, but the actress' emerald gown just doesn't seem to be her cup of tea. Munni madame did seem quite bothered wearing it.