Ghatkopar police create awareness about noise pollution
Mumbai -
Ghatkopar police have launched a new initiative to combat the growing menace of noise pollution in the city.

They will be creating awareness by publishing flyers which will speak about ways to stop noise pollution. This initiative is spearheaded by Ghatkopar senior police inspector Vyankat Patil.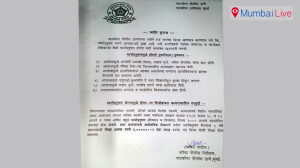 This flyer talks about preventive measures to stop noise pollution. It also talks about the punishment that can be meted out to those who cause noise pollution, under the Environmental Protection Act 1985 sector 15 and section 19.
The punishment could be five years in jail and and a fine of Rs. 1, 00,000. Patil has urged Ghatkopar residents to come forward and curb noise pollution.