Discussion session held to promote Tourism in Jammu and Kashmir
Mumbai -
A discussion session was organised in JW Marriott on Friday to promote tourism in Jammu and Kashmir.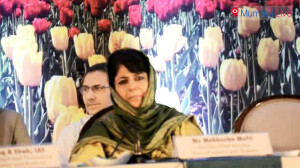 In this discussion session, Jammu Kashmir Chief Minister Mehbooba Mufti was also present. Also, people from different fields were present on this occasion.
From last few days, there has been a decline in the field of tourism in Jammu and Kashmir for several days due to terrorist attacks. Chief Minister Mehbooba Mufti is taking every step to promote tourism in that state.
On this occasion, Jammu-Kashmir based Vijay Verma and Imran Khan produced Sargosian Kuch Kehta Hai also promoted.