Women protest for their rights on women's day
Mumbai -
Women belonging to Kalpak Resident Women's Association got on streets at S M Road on Women's Day. They hold the placards and shouted slogans against the government and BMC. Meanwhile, Antop Hill police inspector Rajendra Sangle provided security to the women.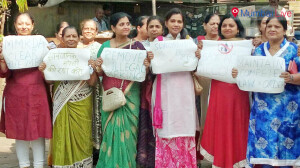 They cited many reasons for which they were protesting. Right from encroachment, illegal parking, and liquor shops which are open till wee hours to women's security issues. They asked BMC officials to look into this matter.
In the last 10 years, these women have been protesting against state and BMC against the stated issues but nothing is being done. They declared that if nothing is done regarding the demands, they will strongly protest.