Saibaba Mahasamadhi Centenary Convention on 19 March
Mumbai -
A meeting of Saibaba Mahasamadhi centenary year has been organised by Shri Saibhakt Mandal this month. The second meeting for the 99th Saibaba Mahasamadhi will be held on 14 and 15 October this year.
The Board has organised an awareness program on the Siddhivinayak Temple Restaurant Building, on Sunday 19 March, from 11 am to 2 pm.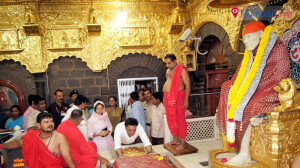 Last year, the celebrations for the 98th Saibaba Mahasamadity Centenary year were held on October 15 and 16 at the Jambori Maidan in Worli. At that time, a huge crowd of devotees from all religions turned out at Jambori Maidan to pay homage to Saibaba.