Congress to protest in cinemas even after 'Indu Sarkar' release
Mumbai -
Madhur Bhandarkar's upcoming film, Indu Sarkar, has been in the limelight for a long time now. The film has got a green signal for release, with just 2 cuts, but the political party, Congress, is only becoming more aggressive with the film.
With the release date nearing, the party is constantly opposing this film, and the activists protested against the film and burnt the posters, showing their disapproval, in Mulund, on Monday. Congress has alleged that eminent political leaders such as Indira Gandhi, Sanjay Gandhi, and several others have been portrayed negatively in the film.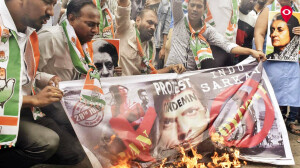 Congress is now demanding that the film should not be shown in theaters. Talking about the same, Rajesh Ingale, general secretary of the North-East Mumbai Congress committee, said that Madhur Bhandarkar has deliberately presented the film in a wrong way and the party will also protest this movie in cinemas, even after the release.
If the past has to be looked at, then this isn't the first time for political parties to intrude and interrogate during the release of films. What seeks more importance – the political image or the creative work? The question remains…