LIVE Updates from Today's MNS Rally led by Raj Thackeray
Mumbai -
Around 23 people were killed and 36 injured in the Elphinstone Road stampede which happened recently. Popular political party Maharashtra Navnirman Sena (MNS) led by Raj Thackeray has organized a rally today at Churchgate station.
MNS chief secretary Sandeep Deshpande, divisional organizer Santosh Dhori and Sandeep Dalvi, along with other office bearers, on Tuesday evening, challenged the passengers of the local railway that they make this front successful by joining the front.
Here are the LIVE Updates from the event:
Live speech from the 'dhadak morcha' by MNS Chief Raj Thackeray:
2:35pm - MNS leader, Sandeep Deshpande asks, "Why do we need a bullet train? Regularize the locals first!". Slogans and chants in support of Raj Thackeray all over.
1:49pm - A supporter protests the Elphinstone stampede. Thousands have gathered around Churchgate and surrounding areas. Traffic around South Bombay affected. A make-shift stage is set-up outside Churchgate station.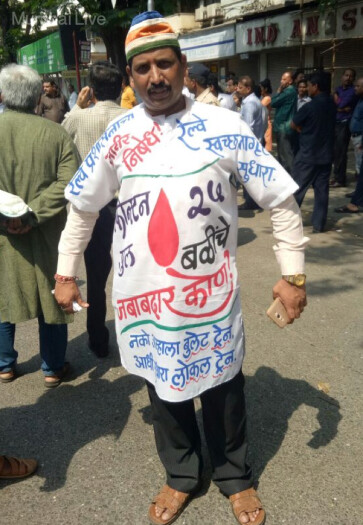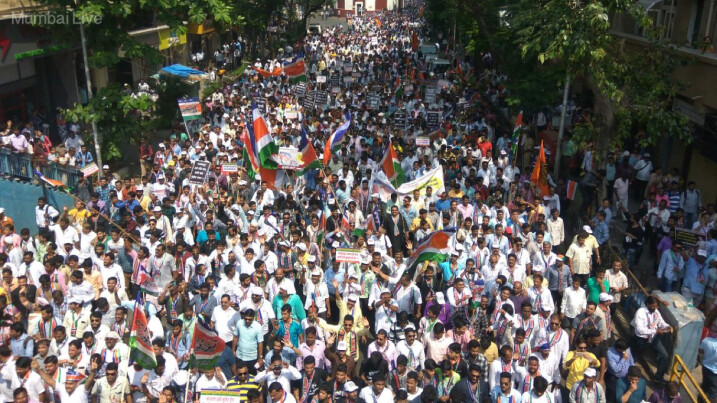 1:30pm - Raj Thackeray arrives at Metro for the 'dhadak' rally. Huge crowds have gathered near the Churchgate, Metro area as the MNS Chief will take up issues against the ruling party. This 'morcha' is a direct result of the Elphinstone stampede.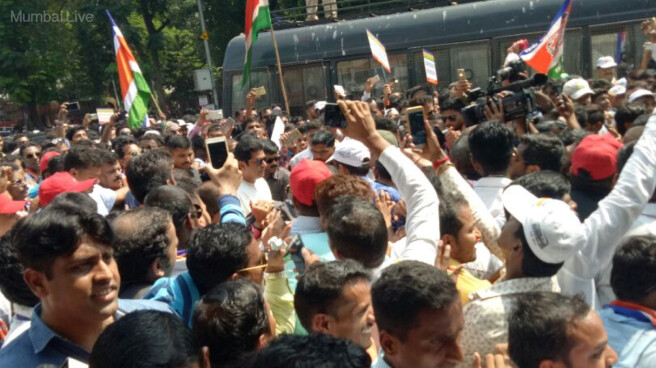 1:07pm - Raj Thackeray's wife, Sharmila Thackeray reaches at the spot as the stage is all set for the MNS Chief to arrive and address the crowd. He will take up several issues that have come to light follwoing the Elphinstone stampede last week and the alleged disproportionate allocation of development budget by the BJP government.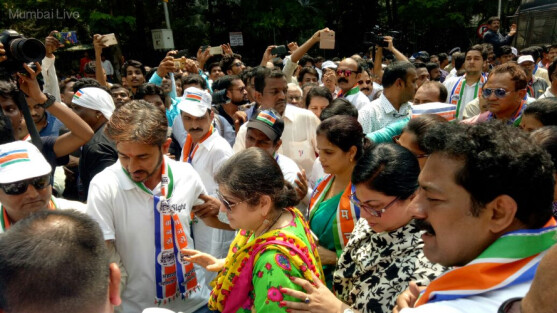 12:15pm - Traffic congestion near Churchgate Station as Maharshi Karve Road is blocked. The Police have turned a deaf ear to the protest as everyone awaits the arrival of Raj Thackeray. The 'morcha' was scheduled to start at 11:30am.
11:57am - Supporters shout out protests against the proposed 'Bullet train' and want the current railways to be fixed. With two trucks parked in the middle of the road for a stage, the Police haven't taken any action yet, despite no permission being granted to the MNS for doing so.
11:45am - After meeting the Director of the Western Division of the Railways, Raj Thackeray will address the gathering. The Mumbai Police are also on stand-by as the word of Raj Thackeray's arrest is being discussed. The MNS campaign is scheduled to start shortly.
11:40 am - The Bombay High Court has restricted the 'morcha' to only south Bombay and has instructed them to keep it to Azad Maidan. However, the Mumbai Police has not granted permission to the protesters. The MNS will proceed with the protest from Metro Cinema till Churchgate Station.
11:34 am - MNS supporters and leaders gather around Metro. Bala Nandgaonkar arrives at the spot as the supporters begin their protest against the Modi government with loud slogans.