Majority voters opted for NOTA
Mumbai - This BMC election voter gave maximum votes to the Shiv Sena party and then to BJP which got 82 seats and 84 seats respectively. Though voters are being considered responsible for the highest voter turnout, it was more of NOTA votes this year.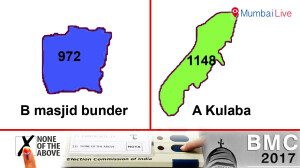 Almost 73,000 voters opted for NOTA and maximum NOTA voters were registered in Andheri with 6,141 NOTA votes. Masjid Bunder registered a low number of NOTA votes.