No firm assurance by Central government on farmers debt relief
Mumbai -
A delegation of Shiv Sena ministers led by chief minister Devendra Fadnavis reached Delhi to press the demand for loan waiver for farmers in Maharashtra. The delegation consists of Diwakar Raote, Ramdas Kadam, Subhash Desai and Sena MLA Anil Kadam.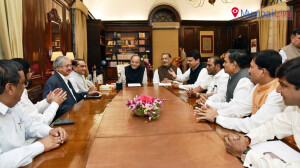 The delegation met Finance Minister Arun Jaitley and Agriculture Minister Radha Mohan Singh. The meeting held for 20-minutes but there was no positive assurance given to the delegation. Finance Minister Arun Jaitley assured that appropriate steps will be taken on the farmers' loan waiver issue.
The Chief Minister informed the reporters in New Delhi that the state government will not put all the responsibilities of helping the farmers on the Central Government. The state government is ready to participate in some of the schemes created by the Center in this regard. The Central Government should accept the remaining responsibility.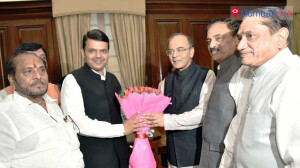 After this meeting Shiv Sena leaders were upset. While talking to the reporters Shiv Sena leader Eknath Shinde said that shiv Sena doesn't need any schemes or plan, just want farmers loan to waive off. Shiv Sena chief Uddhav Thackeray was informed about this.
After attending the meeting in Delhi, Chief Minister Devendra Fadnavis took a cabinet meeting at Varsha Bungalow on Friday night.