City schools hike fees, parents fume
Mumbai -
State education minister Vinod Tawde's assurance to parents that irrational hikes in school fees in the city would be looked into, appear to be hollow, at least for now.
Here is what Andheri's Lokhandwala school is charging for admission to the academic year beginning this June. Parents have complained to the Forum for Fairness in Education that the school is charging - Rs 1500 for admission, Rs 25000 as re-admission fees and Rs 30,000 as security fees. The school has also allegedly said that admissions stand to be cancelled if the fees are not paid by 15 April.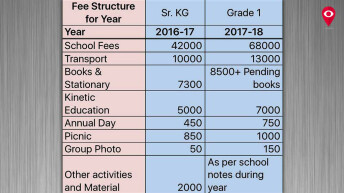 The Forum's head Jayant Jain, along with the parents of the school's students, met the minister recently to discuss the issue.
Further in the suburbs, the Omkar International School in Dombivali has effected a 45 per cent hike in fees, increasing charges for transport, books, picnics, annual functions and other facilities. Parents say that they could have borne a 10 per cent hike, and are now contemplating meeting the school principal on Friday to discuss the issue.