Mumbai mayor will be from the Shiv Sena – Uddhav Thackeray
Mumbai -
Mumbai –Hectic parleys are on after the BMC election results, as Shiv Sena president Uddhav Thackeray tries all tricks in the book to attain magic figure in order to ensure that Mumbai's mayor is a Shiv Sena man.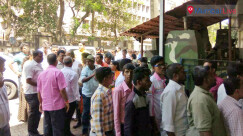 Shiv Sena's rebel candidate Snehal More who contested the elections on an independent ticket has come back to the Sena today. Likewise, another independent candidate Tulsiram Shinde has also come back to the Sena fold. Due to this comeback, the Sena's figures will go from 84 to 86.
During a press conference on Friday, Thackeray thanked people for electing Shiv Sena to the civic body for the fifth time. When he was asked about the magic figure of 114 seats needed for a majority and about the mayor's post, he said that they are ready to join hands with independent candidates to attain a magic figure. But at the same time, he mentioned that mayor will definitely from the Shiv Sena.