Vidyarthi Bharti Sanghatna students demand action against JNU
Jawaharlal Nehru University's PhD student Muthurukrishnan's suicide sparked an animosity amongst Dalit community across India. 40 students of Vidyarthi Bharti Sanghatna staged a protest at Azad Maidan. It is being said that Muthurukrishnan committed suicide on 13 March over castism issue. "It is not a suicide but a murder, the state did not feel like investigating his death. This proves that even government believes in castism. We want police to take action against JNU," said Smita Salunkhe, acting president, JNU.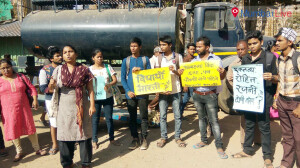 On 13 March, Muthurukrishnan killed himself by hanging himself from the ceiling of his house at South Delhi's Munirka Vihar. According to his friend, before committing suicide, he locked himself in a room saying that he needs some rest. However, when his friends called him after a while, he did not respond. Police broke into the house and saw him hanging. No suicide note was found.