NCP stands for Digha and Malad slum dwellers
National Congress Party workers carried out a protest at Azad Maidan on 10 March against razing the illegal construction of Digha and Malad. This protest was led by NCP leader Vidya Chavan. During this protest, NCP party workers demanded rehabilitation of people in Malad's slum area.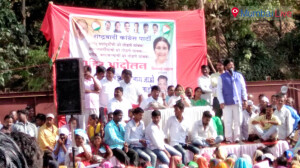 Whereas Prahar Sanghatna's president and MLA Bacchu Kadu said that BJP has always looked down upon poor and NCP has always backed poor. "Vidya Chavan went up to SC against the rehabilitation of families. Nearly 32,000 families who paid Rs. 7,000 to BMC were rehabilitated but remaining 12,000 are still waiting for rehabilitation and these should be rehabilitated soon," said Jayant Patil, NCP leader.